"Meanwhile, let us have a sip of tea. The afternoon glow is brightening the bamboos, the fountains are bubbling with delight, the soughing of the pines is heard in our kettle. Let us dream of evanescence and linger in the beautiful foolishness of things."
On this fine Earth Day, 2015, let us linger a bit over a cup of tea. At the time of this writing, the sun is brightening Connecticut in a way it hasn't in a rather long time, and the artistic trees beyond my window are exploring pointillism with new buds of various hues. I am of two minds, viewing them: I want to sit quietly and contemplate the moment, and throw a party. Possibly at the same time.
Tea has always been a beverage of some duality, welcoming both the spirit of solitary contemplation and the hospitality of human companionship. But it has also been a cultural force of respect for nature; if you do not respect the leaf during preparation, steeping it at the right temperature, for the right amount of time, in quality water, you will not get an excellent cup of tea. Similarly, if a tea estate does not respect its land, its (often ancient) tea trees and bushes, its artisan production methods – they too, will not produce perfect tea. In its long held culture of stewardship, I believe tea growers are among the most in tune with the spirit of an Earth Day.
For example, take the top-quality Temi Estate Sikkim tea we recently added to our family of black teas. This highly respected newcomer to the tea market is only produced from this estate, which follows organic methods according to strict Swiss guidelines. They use organic bio-fertilizers such as cattle manure, neem cakes and vermi-compost manure rather than chemical fertilizers, and they work to reduce soil erosion on the slopes of their tea gardens by working stones into the topsoil. We are proud to carry tea from a producer with such attention to responsible stewardship practices.
Side note: these fertilization methods are similar to a tried-and-true home gardening method, using compost tea and vermi-compost tea to invigorate plants. They're feeding tea with tea! Ha! It really doesn't get much better than that. 🙂
So today, here's my plan for celebrating Earth Day…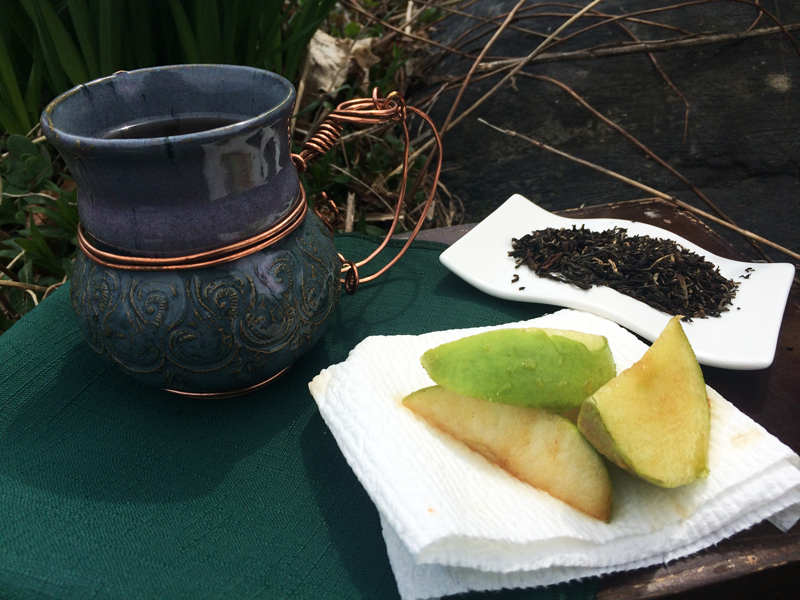 A Simple Recipe for Appreciating the Earth Today
Steep a Perfect Teaspoon of Sikkim tea in a wire strainer for 4 minutes in 208 degree water (just off the boil).
Cut the apple into slices, dust lightly with cinnamon and drizzle with a local, floral honey.
Sit outside, perhaps under a newly budding tree, and just be present a moment.
Listen to the wind, appreciate the early spring buds and the vibrant, near violent green of the grass. Are there insects yet? Look at the ground, listen to plants around you. As you take your first sip of Sikkim, what flavor nuances can you appreciate? A dark maltiness, chased with faint wood and honey? Take a bite of apple, a sweet song from last autumn, and notice how the flavors change and brighten with the springy, floral quality of the honey. Take a sip of Sikkim – which flavor notes pop now? Does the wood change to a floral smoke, brightened by the apple's sweetness? Does its mild astringency pleasantly clear your palette of the cinnamon's spice, readying you for another sip?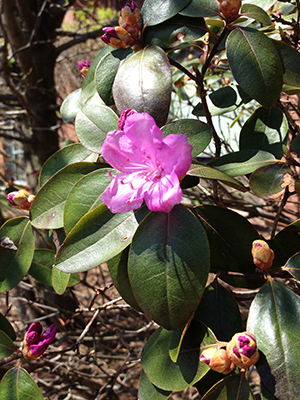 Sometimes it takes a dedicated day to remember and enjoy "the beautiful foolishness" of simple things. I hope that you have time today to do so – and don't forget to compost your tea leaves when you're done!
Happy Spring, and enjoy your Earth Day!
Heather Mead, Team Wanderlust
 PS – the gorgeous pottery was made by Ria Levine, of Riri's Pottery Haus!