I can hear what you're thinking: "She just put the words "Chocolate" and "tea" together. Is this a thing that works?"
Well…I can tell you, it's very chocolatey (ha) and a great way to soothe a sweet craving without breaking the calorie bank!  Perfect for those New Year's resolutions!
I discovered Chocolate Tea one day at work. You see, my company is so kind as to provide the basics in the way of tea, coffee and hot chocolate. If I got hit with afternoon drowsiness, I would make coffee mochas (brewed coffee + ½ packet of cocoa) that I affectionately called "Coffee Bombs". The intent was to have them blast my eyes open for the next few hours until I was free to close up shop.
One day I said to myself, "I wonder what would happen if I played this game with tea instead of coffee? How would that work?" I was quite pleased with the result: it has the mouthfeel and easy drinking quality of a simple cup of tea, but is made sweet and dark by the infusion of chocolate, transforming your cuppa into a nice treat (without much guilt!).
The basic formula for this is very simple: make a very strong cup of tea and add a tablespoon or two of your favorite cocoa mix to it (or 1 TB cocoa + 1/2 tsp sugar). The type of cocoa matters a lot – the darker/richer it is, the less you need! And I tend to steep my black teas for around 8 minutes. You want the cup to be very strong so it can stand up to the strength of the chocolate – it's worth the wait!
I was so excited by the initial experiment with Raspberries & Cream that I had to play with a few of our other teas (see below)! I wonder what combinations YOU can find? 🙂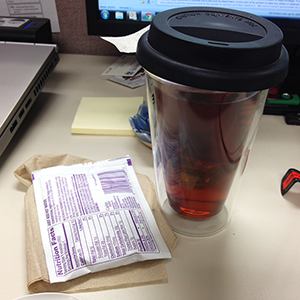 Chocolate Tea
8-10 oz of strongly-steeped tea
1-3 TB of cocoa mix, to taste
Dipped Coconut Candies
There's nothing like dark chocolate & creamy coconut. Delightful.
Coconut, steeped for 8 minutes
2 TB of cocoa mix
Chai Love You
It's warm, spicy love at first sip!
Chai, steeped for 8 minutes
2 TB of cocoa mix
Raspberry Truffle
Ever had those Ghirardelli squares with the raspberry in them? This tastes like those.
Raspberries & Cream, steeped for 8 minutes
2 TB of cocoa mix
Coconut Turtle
Do you like chocolate turtles? This tastes like those crossed with Samoa Girl Scout Cookies. (Oh. I know.)
½ a Perfect Spoon of Coconut + ½ a Perfect Spoon of Butterscotch Caramel, steeped for 8 minutes
2 TB of cocoa mix
Do You Need a Riesen?
Simple but fantastic. Takes care of afternoon sweet cravings!
Butterscotch Caramel, steeped for 8 minutes
2 TB cocoa mix
Chocolate Chip Banana Bread
A complex flavor with heady, sweet almond notes that somehow remind me strongly of banana bread. Seriously, tell me I'm wrong.
Rum Runner's Rooibos, steeped for 6 minutes
1 TB cocoa mix
– Heather